Cloud Shadow Disaster Recovery Technology
2019-04-26
In recent years, public cloud failures have occurred frequently, and private cloud failures are more common
- May 31,2018, AWS Northern Virginia data center has a hardware problem, downtime for about 30 minutes.
- On March 2nd, 2019, Alibaba Cloud North China had a large area failure and the ECS server was down for more than 3 hours.
- On April 10,2020, Huawei Cloud suffered a large-scale failure, and the ECS server was down for more than 2 hours.
Cloud Vendors Pay More Attention to Disaster Recovery
- Alibaba Cloud releases enterprise-level cloud disaster recovery solutions
- Huawei releases cloud disaster recovery solution
- AWS acquires cloud disaster recovery company for USD 250 million
Challenges on the Cloud
-Public and private clouds failures occur frequently, "database deletion and running away" are encountered at any time.
-Helpless against user data errors, ransomware, human misoperation, and servers will be down as soon as they are encountered.
-The cloud has a complex structure and many risk points. It is impossible to switch to another location in real time when disasters occur.
Traditional Disaster Recovery is not Suitable for "Multi-cloud Hybrid Architecture"
- Batch seamless cloud migration, disaster recovery between multiple clouds has become a rigid need in the cloud era.
- Cloud architecture has undergone tremendous changes, and this traditional method of of replicating data for disaster recovery is no longer applicable.
- No common API interface, many domestic cloud vendors, no unified standards.
- Domestic cloud vendors are basically OpenStack architecture, using mainstream KVM virtualization technology, but KVM lacks good disaster recovery technology.
- Cloud important asserts are not just files and database, but also cloud hosts and cloud environments.
- Traditional disaster recovery is difficult to deal with massive business applications and business disaster recovery and replication.
- Cloud multi-tenancy, the types of cloud data and business architecture have all changed, and disaster recovery technology needs to be reformed.
Traditional disaster recovery will come to an end, DR requires cloud transformation
Traditional Disaster Recovery
- Complex Architecture
Workload is becoming more complex, and traditional disaster recovery is overwhelmed.
- Poor Adaptability
Traditional disaster recovery technology is no longer suitable for cloud architecture.
- High Cost
Traditional disaster recovery costs are huge and unsustainable.
- Resource Idle
Traditional disaster recovery requires equal resources and is idle for a long time.
Cloud Disaster Recovery
- Full Scene Integration
Backup, Disaster Recovery and Simulation drill in one platform.
- Agility and Flexibility
Automatically orchestrate the disaster recovery environment, and dispatch cloud resources on demand.
- Heterogeneous Integration
Cloud, virtual and physical can be integrated into the cloud, and you can choose the cloud freely without being restricted by heterogeneous cloud platforms.
- Self-service
Enjoy full O&M services — no agents or third-party solutions required.
How to Define "Cloud Disaster Recovery"
Disaster recovery technology can be defined as cloud disaster recovery only when using cloud "elasticity" and "convergence" features.
- 0 resources consumption in normal state, resources all allocated only after disaster recovery switching, making full use of the flexibility of the cloud.
- No need to care about the IT infrastructure, various IT architecture can be integrated and unified on the cloud.
- "Cloud disaster recovery" is required to build "disaster recovery cloud".
Cloud Shadow Disaster Recovery Technology is Native to the Cloud
Cloud shadow disaster recovery technology is a technology that decouples the bottom layer of the production business from the hardware platform and realizes cloudification. It realizes one-click drift of the business as a whole to the cloud, as well as drift between physical machines and heterogeneous clouds real time. DataSure has accumulated a number of patents and is unified architecture and cloud-based disaster recovery solution. We began research and development in 2010 and released 6th-generation products with nearly 10,000 customers.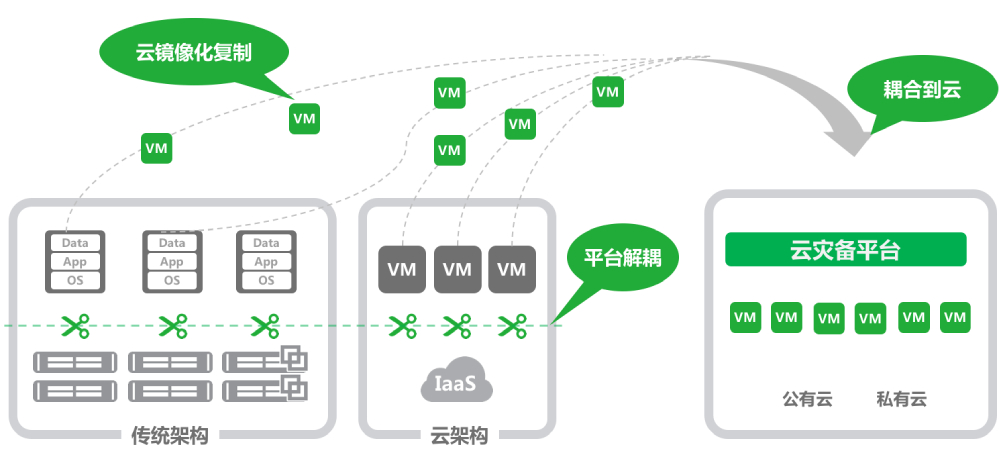 Platform Decoupling
Through cloud shadow disaster recovery technology, the original environment can be stripped from the physical machine, virtual platform or cloud IaaS layer.
Cloud Mirroring Replication
Operation system, applications and data can be backed up into cloud images in real time after the platform is decoupled. Through cloud mirroring replication technology, the system and business I/O level data changes are synchronized or copied to cloud disaster recovery or cloud platform in seconds.
Coupled to the Cloud
Cloud mirroring is automatically coupled to the cloud architecture. Disaster recovery starts resources on demand, and automatically generates adaption and generation of cloud-dependent environments, and realizes flexible and agile disaster recovery from business applications, data and network environments.