Challenges
National Policy

The relevant policies issued by the state require " integrating information resources and improving the modernization of education management". Education information funds amount to 8% of education income funds, nearly 200 billion yuan per year.

Business Needs

Universities generally adopt a mixed environment of single physical machines and virtual platforms. The single machine environment has only simple backups, once a failure occurs, the business system will be interrupted and cause adverse effects.

Technology Gap

As cloud services have become an indispensable option for universities, various universities are trying to integrate cloud services into disaster recovery solutions. Virtualization has created opportunities, but it may have to cross a huge technological gap.

Security Risks

In the process of accelerating the development of informatization in universities, some problems have been exposed, such as hidden dangers of equipment, environmental degradation, backup of system data and human misoperation.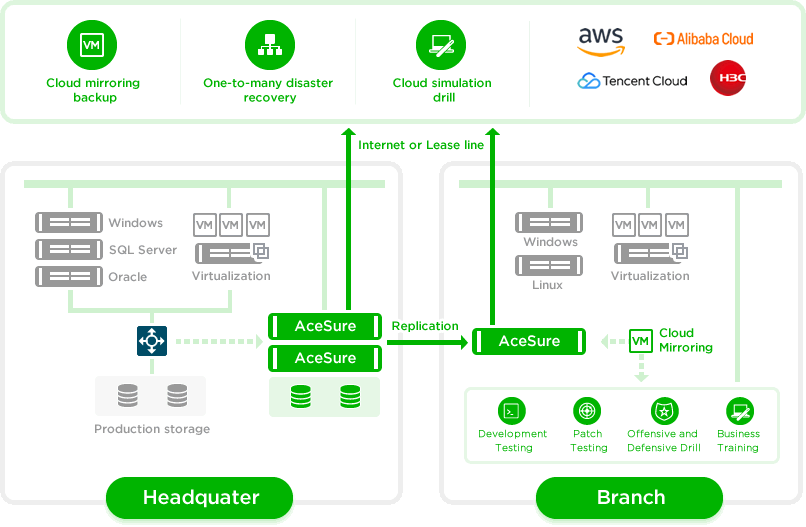 Solution
DataSure offers solutions in the three areas that matter most: availability, protection, and insights. We'll help you secure, protect your digital information—so you can provide better, safer student outcomes.

✔ Migration: support for datacenter migration, business upgrade migration, virtualization migration, and university cloud migration.

✔ Centralized management: no matter how many datacenters, cloud platforms, and departments a university has, failover and disaster recovery tests can be performed through the disaster recovery management platform, without the need to manually associate activities between different environments.
Customer Revenue
Fast Disaster Recovery Without System Interruption

Today's students are always on. Constituents in education require 24/7 access to applications and data to meet their needs. When a failure occurs, you can select the nearest snapshot point of the business system in the platform to generate a virtual machine, replace the failed business system, takeover the original business, and reduce interruption time.

RPO in seconds, RTO in minutes

It supports various services, with RPO in seconds and RTO in minutes, it can reach the 5-level standard real-time data backup in the seven-level definition of disaster recovery system in the international standard SHARE78, which is closer to the 6-level zero data loss standard.

Elastic Cloud Disaster Recovery

One-to-many DR can realize a set of environments that support DR of multiple heterogeneous environments and multiple application systems, and can solve the difficulties of unified cloud DR under hybrid IT architecture.

Full Compliance

It meets compliance requirements for education institutions at the state and national level—ensuring that solutions are up and running smoothly and on time.
Questions about which solutions are right for your? Go forward.
Contact us
Hotline
Service Time
Monday-Friday : 9:30~17:30