Challenges
Inefficient Backup

Data is organizations' most valuable digital resource. Yet legacy backup products cannot cope with the continuous growth of workload and diversification of application types, and the replication efficiency of massive small files is extremely inefficient.

Difficult Data Verification

Lack of convenient data verification methods, unable to guarantee the success rate and recovery time. It has difficulties in disaster recovery drills and it`s necessary to create a test environment to recover all data.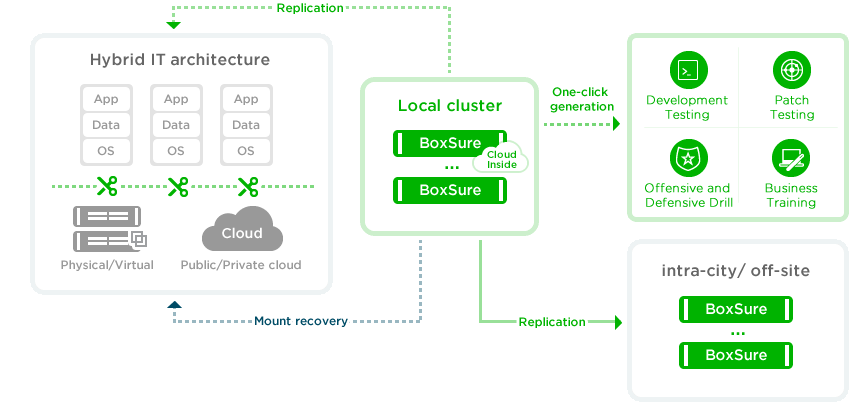 Solution
The cloud has received so much attention as a touchstone to IT and business transformation that it has become a "must do" initiative in the minds of organizations, but often without a full understanding of implications.

Don't let your backup environment become a costly and risky IT management headache. As you evaluate new investments, demand more from a backup solution. Replace siloed, legacy tools with a hyperconverged backup solution that lets you demand.

The cloud backup solution based on BoxSure is a secure, efficient, cost-effective, and scalable enterprise-level data backup solution, which can enable customers to achieve unparalleled data availability, visibility, automation and governance across data centers, on-premise and in the cloud. The physical, virtual and cloud architecture are replicated into cloud images in real time, and the shadow data center is generated by one-click. The backup data can be simulated and practiced on demand at any time, or the backup data volume can be directly mounted to any platform.
Customer Revenue
Real-Time Block-Level Replication

Provide always-on protection, and protect against any disruption-planned or unplanned and deliver an always-on customer experience featuring the lowest RPOs & RTOs in the industry - this means almost no data loss.

Data Stays Safe, Ransomware Stays Out

Prevention of malware attacks isn't always possible, but mitigating the threat certainly is. Quickly recover from cyber-attacks, such as ransomware, helping reduce disruptions to business operations and ensure organization achieves cyber-resilience.

RPO in Seconds

Recover files, applications, VMs, or whole datacenters to a checkpoint mere seconds before an IT disruption or disaster—including a ransomware attack.

Industry Leading RTOs

Unique continuous data protection lets organizations meet extremely aggressive service levels for data loss and downtime.
Questions about which solutions are right for your? Go forward.
Contact us
Hotline
Service Time
Monday-Friday : 9:30~17:30