Features of the Legacy Virtualization Solutions
Solution:Use legacy backup products to back up the virtual machine as a physical machine.
Advantage:Perceive the application and realize basic data production.
Insufficient:Need to install a large amount of backup proxy software. Poor performance, high resource consumption, and hard to maintain.

Solution:Use the backup tools provided by the virtualization vendors.
Advantage:Realize the protection of the virtual environment and data, and restore the entire virtual machine and single file.
Insufficient:When the amount of data is large, the performance is poor, the backup and recovery time is long, and the SLAs cannot be met. Does not support DR and cloud backup, nor can perform cross-platform backup recovery.

Solution:Use virtual machine backup product.
Advantage:Improve backup performance, less data loss.
Insufficient:Only the VM environment can be backed up.The following situations cannot be backed up: the physical machine environment of the organization/special applications and databases in the virtual machine/the bare mapped disk in the virtual machine.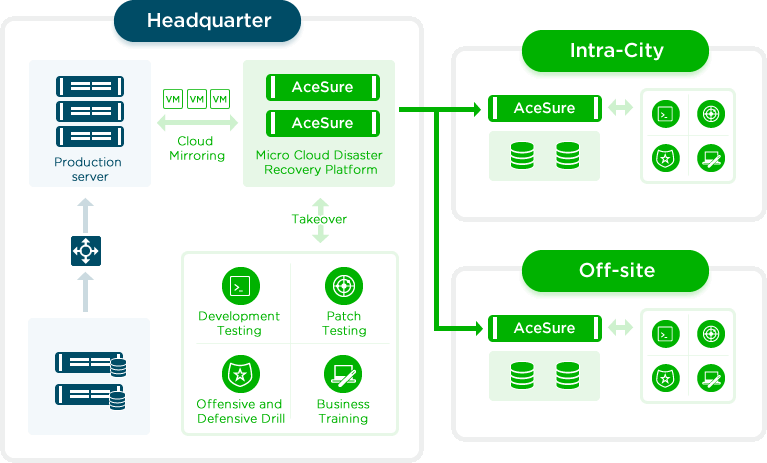 Solution
Banks, credit unions, insurers and brokerages choose DataSure for data and application management. With DataSure, you can configure the cluster system to prevent single points of failure.

Intra-City: Synchronize production data to the disaster recovery center through replication to ensure that emergency takeover, data backup, and simulation drill can be carried out when a failure occurs.

Off-site: After the data is deduplicated, the production data is transmitted to the off-site disaster recovery center through replication to realize the two-site three-center disaster recovery architecture.
Customer Revenue
Mitigate Risk

Supported by all mainstream platforms, adapting to complex architectural environments. Provide consistent and comprehensive data protection for your virtual, physical and cloud environments.

Combat Ransomware

Counter attacks and confidently refuse to pay cyber criminals. Leverage instant recovery for ransomware defense and recover from ransomware instantly with zero data loss.

Simple and Efficient

The unified management platform and WEB visual interface reduce the complexity of operation and maintenance. Get faster disaster recovery, scale-out storage, and streamlined security.

Streamline Compliance

Keep an eye on operational efficiency as you address ever-changing government and industry requirements. Get faster disaster recovery, scale-out storage, and streamlined security and compliance.
Questions about which solutions are right for your? Go forward.
Contact us
Hotline
Service Time
Monday-Friday : 9:30~17:30