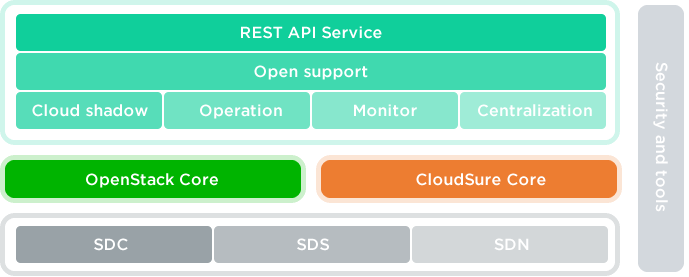 Product Overview
Support massive node SaaS operation-level cloud disaster recovery platform, build disaster recovery operation environment based on reliable private cloud platform and public cloud platform.

● Integrate multiple functional modules and achieve the operation of different applications through multi-tenant division.
● Provide block-level business backup and recovery, and an open API for customized development.

Product Features
DRaaS

Public and private clouds can be used as recovery sites and replication targets to achieve disaster recovery between the local production environment and public and private clouds.

DR in Public Cloud

When a disaster occurs, mutual disaster recovery between different public clouds can be realized. You can obtain comprehensive disaster recovery capabilities.

Hybrid Cloud DR

Achieve business continuity and disaster recovery between two or more sites in different geographic locations.
Application Scenarios
Large Enterprise Multi-cloud Datacenter Disaster Recovery

Multiple large cloud datacenters in large enterprises need more efficient disaster recovery solutions. Two-way replication and multi-site support are essential to ensure the availability of user-critical applications.

Multi-tenant Disaster Recovery

In order to realize the difference of cloud services for business protection, various departments have different disaster recovery requirements for applications. Different tenants need to meet different disaster recovery needs, and provide independent, flexible platforms for subordinate units or different departments.

Off-site Disaster Recovery

Compared to the traditional method of replicating data locally to a storage array and then transporting physical equipment to a disaster recovery site, using the disaster recovery service of CloudSure public cloud can easily realize data and business off-site DR.
Product Advantages
Provide on-demand, flexible disaster recovery cloud services. You no longer need to repeatedly purchase and adjust physical equipment for business DR, software development testing, system simulation drill.

Support self-defined images, freely maintain operating system images and virtual applications, and complete automatic deployment in seconds according to your requests.

All API are open, and can be deeply integrated with other systems. It is extremely easy to customized and develop, and seamlessly integrates into the exiting processes and internal application systems of the enterprise.
Questions about which solutions are right for your? Go forward.
Contact us
Hotline
Service Time
Monday-Friday : 9:30~17:30