Goal

Win-win cooperation and common development as the goal.

Insistence

Adhere to the omni-channel strategy, all customers are open to partners.

Insistence

Persist in empowering partners' business, help partners improve business capabilities and achieve digital transformation.

Insistence

Insist on protecting the interests of partners, ensuring partners' profits.
Omni-channel Business Model
Channels are divided into regional channels, industry channels and strategic channels. According to the cooperation level, the channels are divided into two levels: Tengyun and Xiangyun.
Customer Strategy

Comprehensive Support
Actively share business opportunities for mutual benefit.

Unified docking, regular communication and cooperation plan.

Funding for marketing activities, manpower, technology, etc.

Inside sales support business opportunity development and project assistance.
Support Partner Business
Combining online and offline training

Sales and pre-sales training: including product training, solutions training, industry knowledge training.
After-sales technical training:including product training, installation and implementation training, technical support training, etc.

Reduce Partner Sales Difficulty

Output standard products and solutions, technical support for key customers' pre-sale bidding.
Export solutions for more scenarios and industries such as finance, healthcare, education, public security, etc.
Rights and Interests
Rebate

Jurisdiction or industry performance rebate policy.

Price Protection

Project filing and price protection.

Project Filing

Priority support for the region and industry.

Project Support

Provide project plans, technical support, etc.
Join Us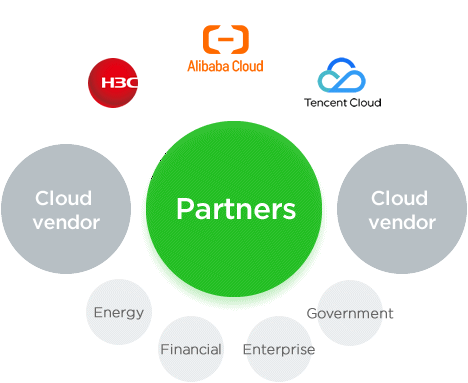 Transform and grow together with partners
Uplink cloud vendors
In-depth cooperation with mainstream 50+ cloud vendors.
Horizontal joint cloud eco-vendors
Alliance with MSP, gathered a large number of cloud ecology.
Link down to customers
Providing a large number of customer resources to partners to expand their business.
Resolutely safeguard channel interests
In order to speed up the cooperation, please call
400-821-6995
Questions about which solutions are right for your? Go forward.
Contact us
Hotline
Service Time
Monday-Friday : 9:30~17:30